MONDRA Gate
Taking several years to complete and measuring 16 meters long, this gate for the dutch MONDRA group really is inspiring

The central part between the standing steel bars consist of two doors, each 3x3 meter. The doors are sided by two fixed side-wings, each 5x2 meter.
The complete gate design shows a lathe; the central circle with the name MONDRA is the object to be shaped.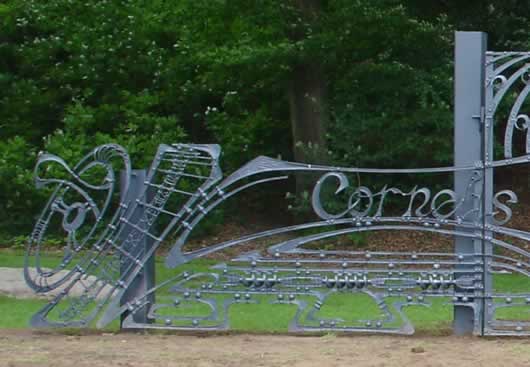 At both outsides are the turning wheels with number bar that control the progress of the cutting knives. The parts with the name Cornelis and Pronk are the cutting edge with support strructure. .
Details show the way how a cutting knive is driven towards the object to be shaped.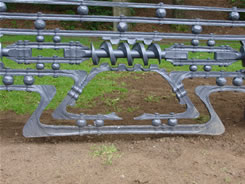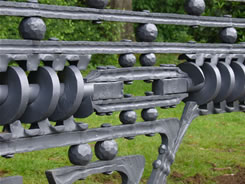 The cutting knives project into the gate doors. The circles above the cutting knives symbolize the laterial already cut away, connected by curls of metal.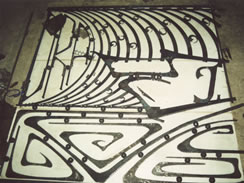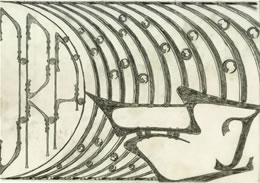 At right, the detailed drawing of part of the the right gate door. The cutting edge is easy to recognize. At left, the door just before completion
Design and Realization
The original idea for the gate came from MONDRA-owner Kees Pronk, with final drawings and realization by Daniel Cerny.
The right gate door was made in the Netherlands, at the workshop of MONDRA. The remaining forging work was done at the Workshop in Blata; final protective coating and installation again in the Netherlands.
The main blacksmiths working on the gate were:
Daniel Cerny, Karel Ondrasek, Jan Stanek, Gert Bruinix, Milan Kalmar, Marek Kuril, and Kees Pronk.